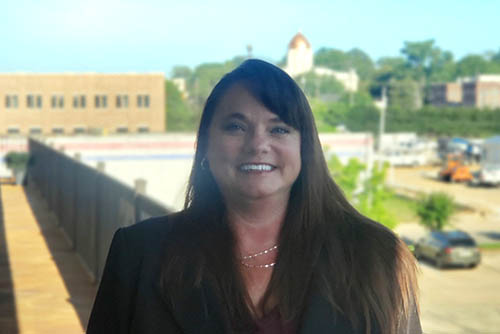 Welcome to the Team: Anastasia Cary
Although Anastasia grew up in Memphis, TN, her family is firmly rooted in the West Point and Houston, Mississippi areas. She now considers herself a Tupelo native after living here for almost 20 years. Following family tradition, she attended Mississippi State University (MSU) where she received a Bachelor and Master of Science.
While a graduate student at MSU, Anastasia supplemented her education by assisting in the Immunotoxicology Laboratory and the Bioremediation Laboratory. After graduating, she started her professional career as an Environmental Coordinator where she spent approximately 15 years managing air and water permitting, environmental programs and policies and environmental compliance for major industrial manufacturers located across multiple states in the southeastern U.S. While employed as an environmental project manager in 2016, she performed the environmental site assessment for the property where the Chickasaw Heritage Center will be located and the Coonewah site on the Lee County line. This project was Anastasia's first introduction to the Chickasaw Inkana Foundation.
Several years ago, Anastasia started volunteering at the Tupelo Lee Humane Society where she could use her skills to make a positive impact by spreading awareness of TLHS' mission. Collaborating with this non-profit organization gave her the perfect environment to transition to her current position with the Chickasaw Heritage Center.
"Throughout my childhood visits to family, I had noticed historical markers and Native American Indian mounds, but never had any formal knowledge of the rich history of this area. Learning about the historical significance of northern Mississippi for the Chickasaw people has been a very enlightening experience for me. I am a true believer that we should know where we have come from so, we know where we are now and where we are going. I am so very proud to say that I will be a part of this "Journey Home" for the Chickasaw people. "