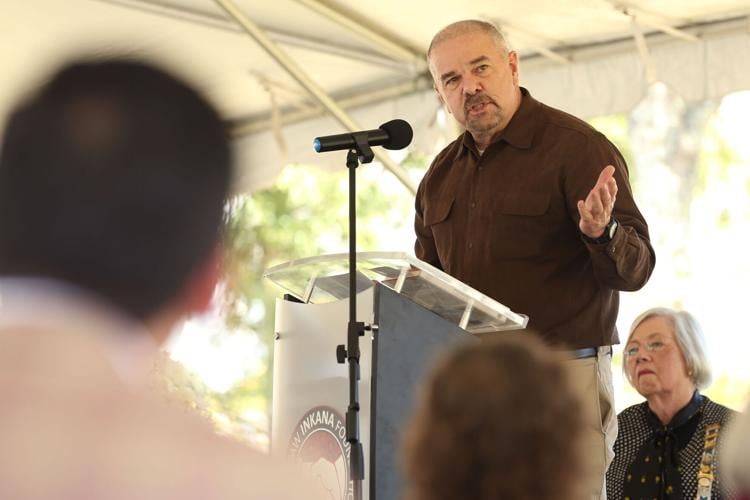 Tupelo residents honor Piominko in honorary Wreath Laying Ceremony
TUPELO – Tupelo residents and members of the Chickasaw nation honored historic Chickasaw leader Piominko with the second annual wreath laying at his statue at Fairpark Monday afternoon.
Piominko was born around 1750 in Chokkilissa' in what is now Tupelo. He was an instrumental Chickasaw leader during the formation of the United States and forged a relationship between the fledgling county and the Chickasaw nation.
Chickasaw Inkana Foundation CEO Brady Davis said Piominko's name comes from a contraction of "Ho Paya Minko," meaning "prophet leader." He said the name is believed to derive from Piominko creating war plans with the assistance of dreams and visions.
President George Washington rewarded Piominko with a peace medal in 1794. While formalizing peaceful communication between the two nations through the Treaty of Hopewell, Piominko helped define boundaries and worked as a diplomat between the Chickasaw and United States officials. Piominko's statue stands outside City Hall in Fairpark, which the Tupelo Rotary Club donated in 2005.
The ceremony followed a Tupelo City Council vote last week to proclaim Oct. 10 Piominko Day. Communications Director Scott Costello said the proclamation does not negate the other holidays set on Oct. 10, including Columbus Day and Indigenous Peoples' Day, noting that the city follows the state's lead on observed holidays.
"This is a goodwill gesture to the Inkana," he said.
Though not listed as a state holiday, Columbus Day is a federal holiday, while Indigenous Peoples' Day is not recognized by either entity.
"There has been a movement through time when groups decided to celebrate Indigenous Peoples' Day over Columbus Day," Davis said, noting it was due to a litany of factors, including the violence that came with Columbus' discovery of the Americas. "It wasn't pretty or what kids learn in school."
Davis said the Chickasaw Nation started celebrating Piominko Day instead of Columbus Day in 2008. He also noted the Foundation and city partnered on and off over the past decade for Piominko Day proclamations.